When it comes to straightening teeth, you've likely heard of a familiar brand before—Invisalign. While Invisalign is well known, it isn't your only option. SureSmile can help improve your smile by shifting your teeth into place.
If you're debating between SureSmile and Invisalign, what are their differences?
A Difference in Price & Treatment Timeline
There aren't many significant differences between Invisalign and SureSmile, but you may need to use one treatment longer.
SureSmile aligners typically require fewer adjustments, helping you achieve your desired results faster. Additionally, they can be cheaper than Invisalign because you need fewer aligners.
What is SureSmile?
SureSmile provides clear plastic aligners that help straighten your teeth, treating different dental issues. These aligners are an alternative to traditional braces, offering the same benefits without needing noticeable and sometimes hard-to-manage brackets and wires. They help gradually shift your teeth into place until you achieve your desired results.
While you wear aligners all day, you can remove them whenever you need to eat or drink.
What Are the Benefits of Clear Aligners?
While SureSmile has some differences from Invisalign, they offer the same benefits.
These benefits include:
Easy cleaning: You can easily remove your aligners to clean them and your teeth.
Lower risk of complications: Traditional braces can break, leading to a loose wire or bracket that can damage your teeth and mouth.
Simple removal: You can remove your aligners whenever you need to eat or drink—something you can't do with traditional braces.
Aesthetics: Clear aligners aren't easily visible, meaning someone may not even know you're using them.
What Can You Expect During the SureSmile Process?
Your journey to straighter teeth begins with an initial appointment where your dentist discusses your needs and examines your teeth, gums, and mouth. Your dentist uses a scanner to capture a 3D model of your teeth and take photos of the treatment area. Your aligners are created after determining how many months of treatment you need to achieve your desired results.
Your dentist will fit your aligners once they arrive, using small attachments to help support the eventual adjustments and movement your teeth need during treatment. Once your aligners fit well and there is space for your teeth to shift, you will receive your new aligners.
Like Invisalign, you wear clear aligners almost always (around 22 hours daily). You switch to a new pair of aligners every 7 to 10 days as your teeth move into place. Expect monthly visits to your dentist's office to help examine your progress and address any concerns.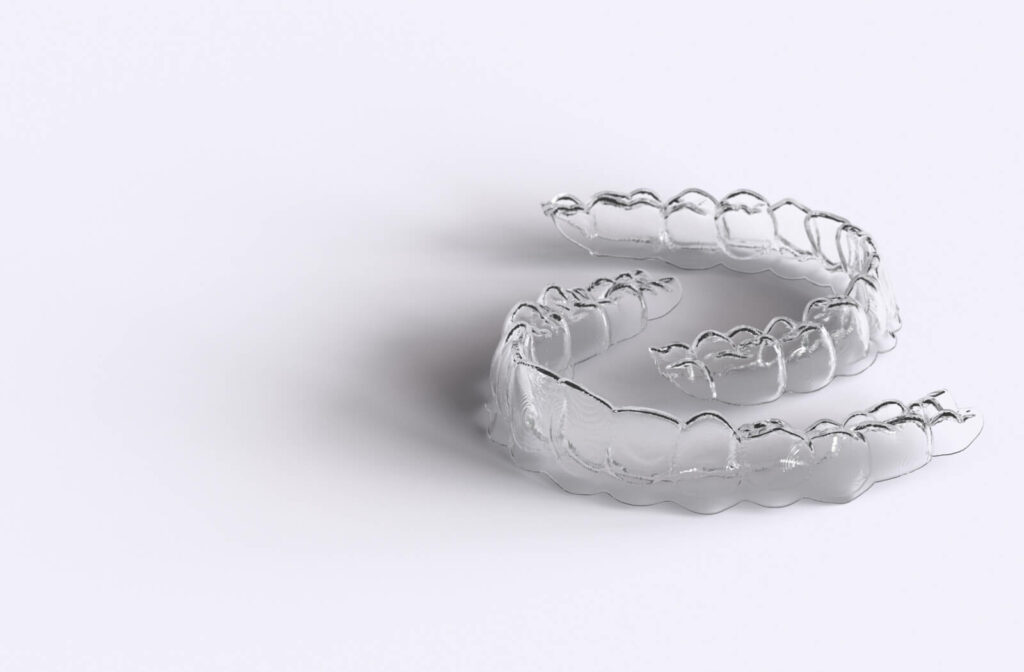 Is SureSmile Right for Your Needs?
SureSmile can benefit many patients, but this treatment isn't ideal for everyone. Your dentist can determine your eligibility during your initial appointment.
SureSmile may be right for your needs if you have any of the following dental conditions:
Don't Forget About Regular Care
You can remove your clear aligners whenever you need to eat, but you must keep them clean and free of debris. Stains and bacteria can collect on your aligners if you don't follow proper hygiene.
Follow these tips to keep your aligners clean and protect your teeth:
Clean your aligners every night to remove food debris and bacteria.
Rinse your mouth and aligners with water before putting your aligners in after eating or drinking.
Store your aligners in a plastic case when not wearing them.
Whether you're looking to straighten your teeth for medical or cosmetic reasons, visit your dentist to determine your eligibility for treatment.
Speak to Your Dentist About SureSmile
You deserve a smile that works as well as it looks. Whether you have an underbite, overbite, or crooked teeth, SureSmile can help straighten your smile. Visit your dentist and see if this treatment meets your needs. Contact Hometown Dental if you're interested in SureSmile.