The countdown is on to my favourite holiday of the year – Christmas!
The best part, of course, is getting together with the people I love most, sharing in family traditions, enjoying a wonderful meal, and basking in the glow of a brightly decorated Christmas tree.
All that brings back wonderful memories from my childhood.
Another favourite holiday activity?
Stuffing Christmas stockings 'til they stretch at the seams. While my goal is usually to pack stockings with as many fun and heartfelt little items as I can, sometimes I also sneak in things my loved ones need but might not otherwise buy for themselves. And while I must admit that I usually end up including a sweet treat among the stocking stuffers, the dentist in me can't help looking for health-conscious options.
Still, despite my best intentions, some years I get stuck trying to think of new stocking stuffer ideas.
You too? Maybe we can help each other out!
Here are my top 5 dentist-approved stocking stuffers…
#5: Floss
Hear me out before you say "No way, Dr. JJ!"
Some people love it, some people hate it… but everyone knows what to do with it, even if they don't use it as often as they should! You're guaranteed to get laughter and/or groans out of this particular stocking stuffer… yes, it's floss!
Isn't it better to floss regularly than having to deal with gingivitis (inflammation of the gums) or periodontitis (inflammation of the supporting structures of the tooth)? Asking for a friend.
Answer: good dental hygiene is always the better option.
And guess what? Christmas gifts don't come cheaper or more compact than this (you may even have collected a few 'spares' in your bathroom drawer, wink wink, nudge nudge)… so stuff that stocking to your heart's content!
I have it on good authority that floss is not only a dentist-approved gift, it's also Santa approved. And if your kids or spouse complain? Tell them they can exchange their shiny new floss for a lump of coal!
#4: Waterpik Water Flosser – they also make them for kids!
Alright, alright, I can tell some of you still aren't sold on the idea of putting floss in people's stockings. The alternative – a Waterpik Water Flosser – definitely won't fit in a stocking, but it's certainly worth thinking of putting under the tree… so I'll cheat a bit and squeeze it onto the list.
Waterpiks are high-pressure, precision instruments that spray water and wash away plaque in between teeth.
While most dentists still think traditional floss is more effective, occasional use of a Waterpik Waterflosser (or similar brand/model) is definitely better than not flossing at all! They're especially great for someone who wears traditional wire braces.
The Waterpik Waterflosser even comes in child-friendly models for ages 6+ and is perfect for any kid who has braces or trouble flossing – which makes them as much a gift to parents as it is to kids!!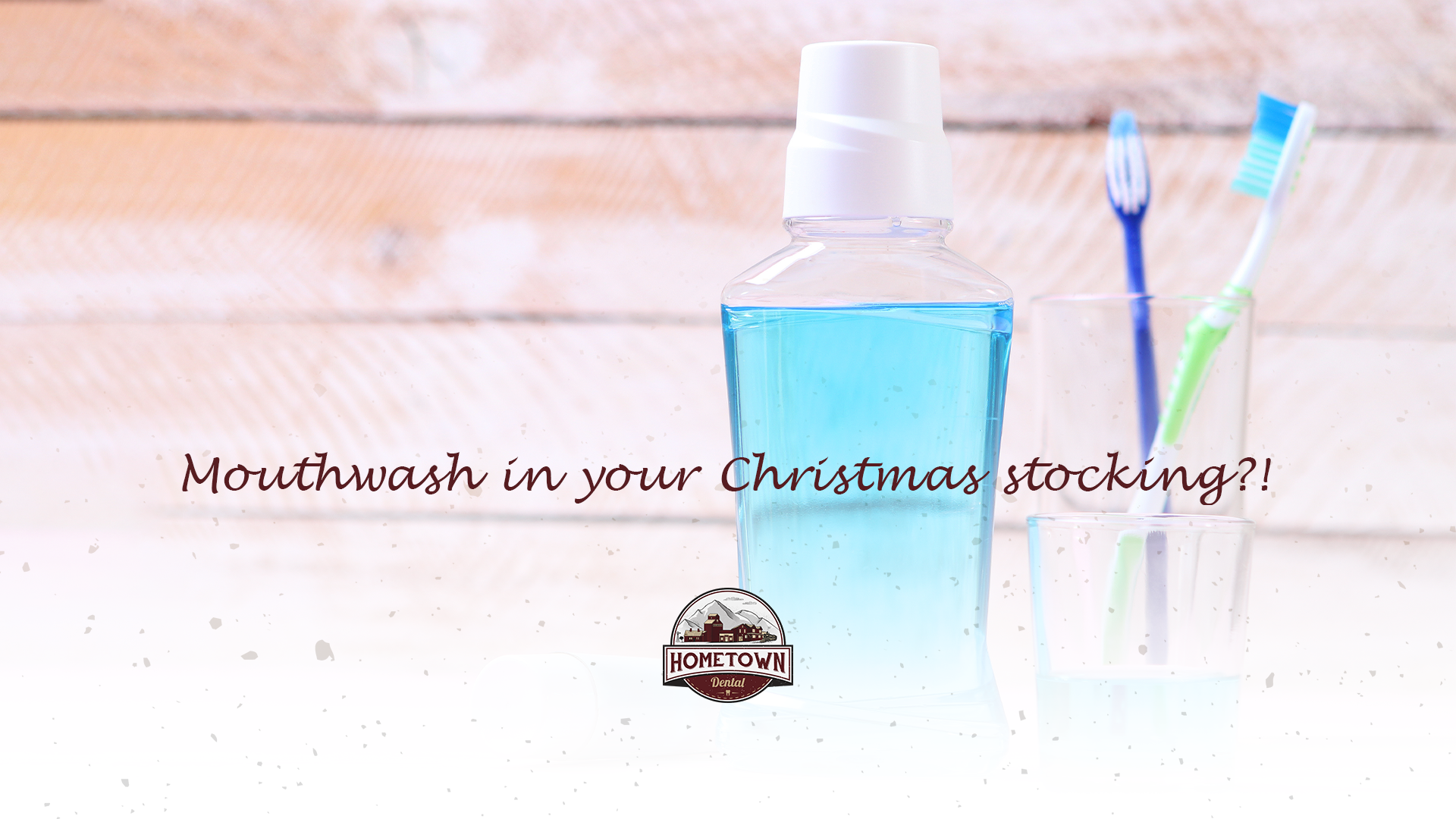 #3: Mouthwash
Nobody likes the taste of the morning blahs on their tongue, and that taste and sensation can be especially nasty if you've had wine or sweets the night before… and 'forgot' to brush your teeth. Your spouse or significant other expecting a kiss from you on Christmas morning? Tell them not before they replace the bad breath that accompanies the morning blahs with a minty fresh swish, straight out of their stocking!
Health-conscious as he is, Santa might also appreciate it if you left him a bottle of mouthwash next to the milk and cookies on Christmas Eve (maybe that'll inspire your kids, too?).
Fortunately, you can buy mouthwash in convenient 95 ml and 250 ml travel-sized bottles at your local drug store or supermarket, so even if they don't use them on Christmas morning, your fam can bring them along on that next family vacation. Make sure they use it properly (yes, there is a right way and a wrong way)!
#2: Teeth whitening pen
Heads up: this stocking stuffer is especially popular with coffee drinkers!
Your loved ones want lasting pearly whites, and not just after their annual or bi-annual dental check-up? Nothing can ever beat brushing and flossing after every meal when it comes to achieving great oral hygiene, but brushing alone won't keep teeth sparkling. While patients are always thrilled with the out-of-this-world results they get from our Zoom in-office teeth whitening treatments, many also want to maintain their newfound sparkle between visits.
Teeth whitening pens are great for doing so and are most effective if you start using them right after you've had a professional cleaning done (we'll happily give you tips to get the most out of your whitening pen).
Like mouthwash and floss, you'll find teeth whitening pens in most drug stores. My favourite brand is the Philips Sonicare Whitening Touch-Up Pen – and we sell them right here at Hometown Dental – but there are many other options on the market. Make sure you do your research… and if you're not sure about something, feel free to shoot us an email.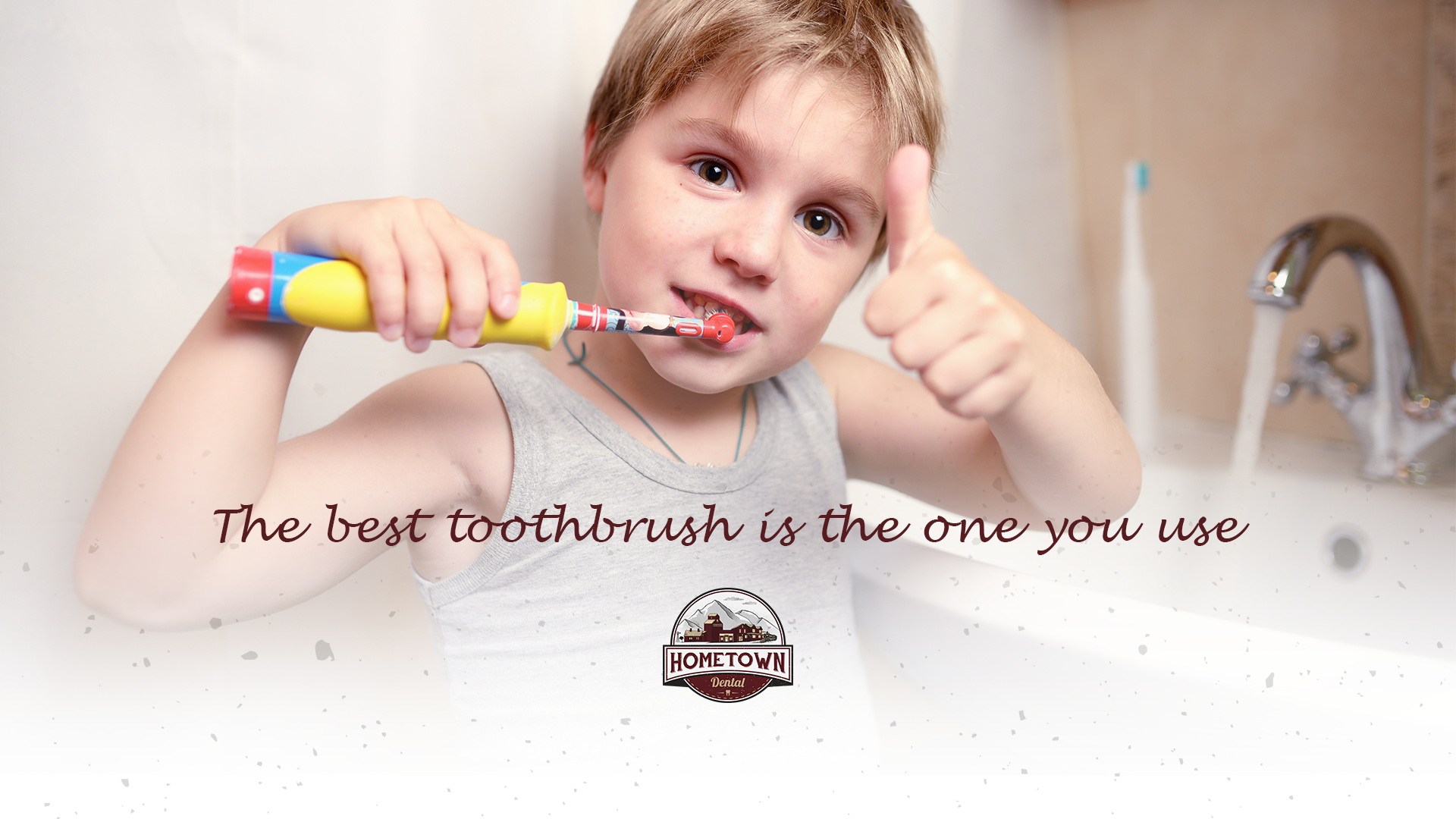 #1: Philips Sonicare toothbrush
Men seem to appreciate these a lot (they are, after all, 'power tools')!
While they might be a tad expensive for a stocking stuffer and the box they come in may stretch your biggest stocking to the limit, if you can afford it, a Sonicare toothbrush is an excellent and highly functional Christmas gift idea… one of those things that folks don't realize how much they love it until they finally have their own.
Although people can achieve an impressive 300 strokes per minute when they brush with a manual toothbrush, electric toothbrushes rotate at around 7,500 strokes per minute, and sonic toothbrushes as high as 30,000 strokes per minute! That makes them much more effective than manual brushes at cleaning hard-to-reach areas, like between teeth and below the gum line.
We don't sell electric or sonic toothbrushes at the office, but the Philips Sonicare line of toothbrushes(hmmm, see a trend developing here?) is great value if you're able to get them. Like the Waterpik Water Flosser (see #4 above), the Sonicare line even includes a rechargeable children's model– which has a timer to help kids ensure they meet the 2 minutes recommended brushing time, and pacer alerts that instruct them to move to the next quadrant of their mouth for a thorough cleaning. I've seen some retailers selling them for under $50.
That said, do you know what the very best toothbrush is? It's the one YOU use, whether it's manual, electric, or sonic… so just about any toothbrush in the stocking will be dentist-approved (it's the thought that counts)!
Now it's your turn to help me out!
I want you to tell me if you used any of the above dentist-approved stocking stuffers this Christmas, and how they were received!
In the meantime, if you've got a neat stocking stuffer or other original Christmas gift ideas of your own to share with me (they don't need to be dentistry-related, but bonus points if they'll appeal to health-conscious folks), please send me an email or tag me on social media @hometowndentalokotoks
Stay safe and well!