From the moment you feel a twinge in your tooth, you're filled with dread. Then, you finally set up the appointment. When the day arrives, you wake up with knots in your stomach.
I understand!
Lots of people may feel nervous or anxious about visiting the dentist. In fact, up to 40% of Canadians have reported that they're afraid of the dentist. Whether you're worried about experiencing pain, concerned we might find a cavity, or terrified of getting impressions taken, your dental fears are completely normal.
We're here to help ease your fears! At Hometown Dental, we do everything within our power to make your visits comfortable, stress-free, and as painless as possible. Here are 5 reasons that Hometown Dental is the place for you: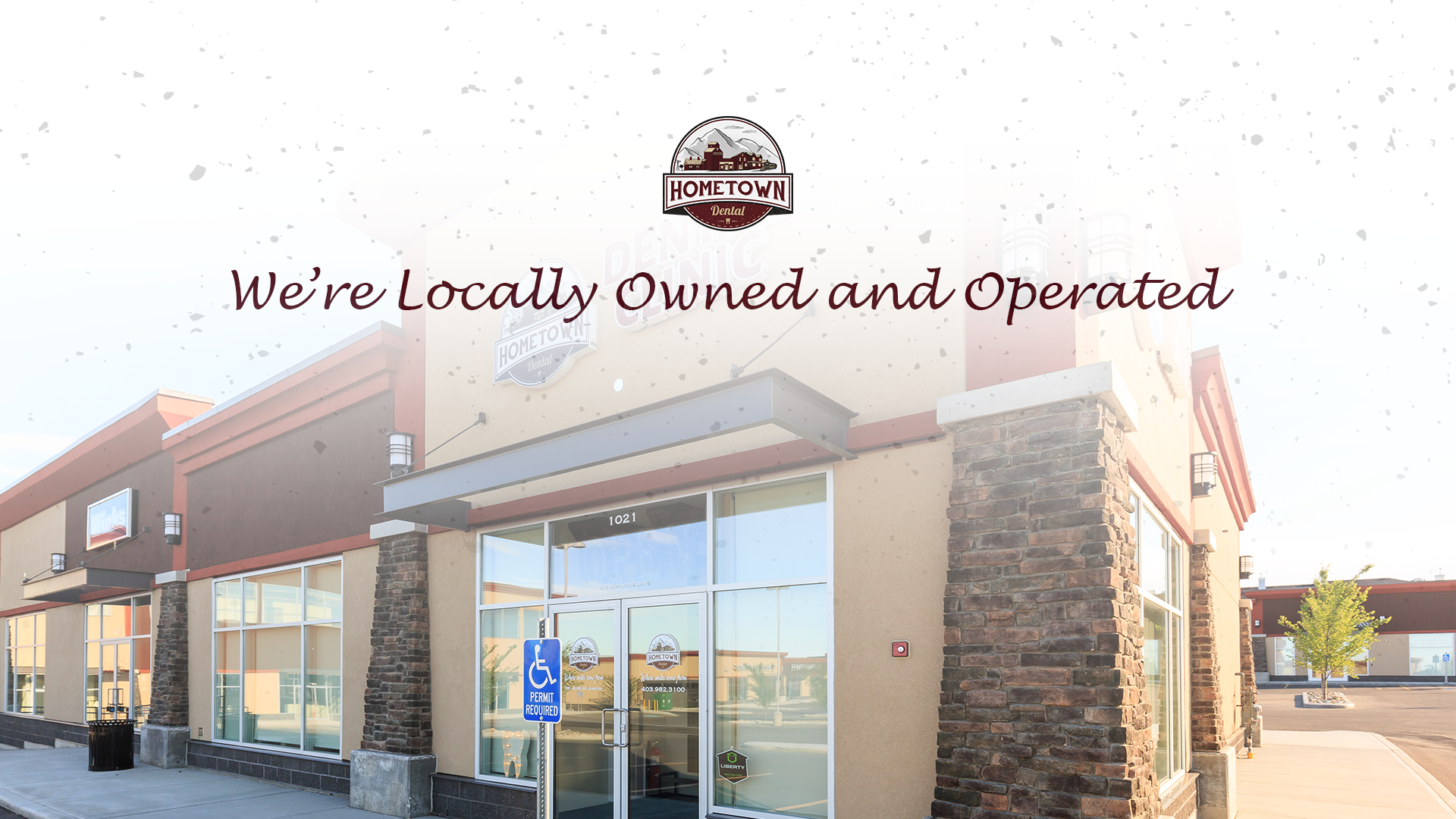 REASON #1
HOMETOWN DENTAL IS LOCALLY OWNED AND OPERATED
Hometown Dental is owned and operated by me, Dr. Jennilee Jamison. I'm in the clinic daily to make sure that patients get the high standard of care I'm committed to offering. I'm a local who grew up in Mazeppa and attended school in Blackie and High River – so I know the community and want to bring the best to the people I know and love! That's why we sponsor local kids and teams in the community. Plus, we participate in local events such as parades, the Chilli Fest, Light Up, and more! We can't wait to be able to get back to participating in local events and seeing our wonderful patients outside of the clinic again!
REASON #2
HOMETOWN DENTAL IS KID-FRIENDLY (FOR CHILDREN AGES 0-99!)
We understand that sitting in the dentist's chair can be nerve-wracking for kids young and old. That's why we offer Netflix DURING your appointments! Just lay back, look up, and relax while watching our ceiling TV screens. You can enjoy watching your favourite shows, or discover a new one, all while we take care of your teeth.
However, the fun all starts as soon as you walk into our reception area! We have an iPad station with games to keep kids entertained while they wait and a selfie-stand to capture fun photos in the office (These are currently unavailable due to COVID-19 but will hopefully be up and running again soon!) You'll also find a toy tower. At the end of their visit, children receive a token that they can redeem at the tower. So, while you wait, why not check out the fun toys they might win at the end of their visit? This can make your wait a little more fun and a little less anxious.
Finally, we have a Cavity Free Club for our youngest visitors. Any child who has a cavity-free visit will be entered into a draw to win a $25 gift certificate to Monkey Mountain Toys and Games!
We strive to make all of our patients' visits comfortable and fun, but especially for kids! Our staff are patient, kind and understanding. So, bring your kids in with confidence, knowing that they'll have a great experience!
REASON #3
HOMETOWN DENTAL USES THE LATEST IN DENTAL TECHNOLOGY
New technology in the dental field can also make dental procedures more pleasant than they were in the past. For example, we have in-House 3D digital imagery! That means we can use digital images instead of taking moulds for many procedures such as implants, crowns, mouthguards and more! It can also speed up the process of getting your treatments done. Additionally, we have a 3D xray machine (cone beam CT) that shows all the details that regular x-rays show us, but in three dimensions. This is very useful for seeing the anatomy inside a tooth before performing a root canal, planning implants in the proper jaw location before surgery, locating nerves before extracting wisdom teeth, and more.
Plus, we also offer same-day crowns. Because we make our own porcelain or zirconia restorations and don't outsource this procedure, you can get a crown done in just 2 hours! Our special CEREC machine can also make inlays, bridges, implant crowns, and implant surgical stents.
Similarly, we have our own in-house denturist, Tatem Anderson. Rather than having to travel to see a specialist, you can get your denture procedures done right here in our office!
In addition, we've added some aesthetic procedures to our offerings. For example, we offer multiple teeth whitening services and Dysport injections to eliminate wrinkles.
Finally, we also offer sleep dentistry to help diagnose and treat sleep apnea
REASON #4
WE OFFER SEDATION AT HOMETOWN DENTAL
For your oral health, it's important to make sure that you schedule regular check-ups so that we can catch problems before they become more serious. However, we know that some dental procedures can feel overwhelming! If you're especially anxious about multiple procedures or can't seem to get through a visit, we also offer sedation. This can also be a great option for people who otherwise wouldn't be able to receive treatment.
REASON #5
HOMETOWN DENTAL CLINIC IS UNLIKE THE DENTAL CLINICS YOU HAVE SEEN BEFORE
When you visit Hometown Dental, you won't feel like you're walking into a dentists' office. Our atmosphere is a bit different! It's welcoming, stylish, and has lots of local flairs, such as the operatories being named after the surrounding towns.
We're sure you'll love our reception area which is complete with a welcoming drink stand, our gorgeous colour scheme, and a relaxing atmosphere.
We invite you to make your appointment today! We look forward to helping you achieve your best, healthiest smile!
Have questions about our dental clinic? Let us know in the comments below!